Hi Friends,
Thanks for stopping in. I really appreciate those of you who have supported me personally and professionally as I stumble along my path. 😎
I'm feeling a bit intimidated and overwhelmed as of late and I know it is helpful for me to get out what is banging around in my head so here it goes….
I have dreamed of having a space on Main St. Battle Ground. The added viability plus the simple hustle and bustle of people walking by on the street would be a vast improvement over my current ghost town corner. I could not believe it when the opportunity presented itself and I felt (feel) so blessed to have that door open. But then the waiting and the thinking…
There are advantages to the location I am in. Advantages like easy parking, less expenses, known landlords that are easy to work with, a newer building with air conditioning, heat and outlets that all work. Change from the known (comfort zone) to the unknown is scary! I remember how nervous I was when I first moved into my current space. I feel an emotional attachment to this space because it represents a huge leap of faith and a giant step in starting my own business. When I first moved in I seriously wondered if I would last the 6 months required by the lease. Now a month shy of 2 years later I not only have survived I'm moving to a larger more visible space and that is EXCITING (and terrifying).
I will be moving in and painting during the first week of July and then immediately leaving for a week on vacation. So, that means I will be missing First Friday of July and Harvest Days so I already feel like I'm messing up… But the vacation was planned before and it is what it is. Prayers are always appreciated as I try to figure out how to set up my new space. So many decisions need to be made and money spent it's stressing me out!
This weekend I'm on a team that will be "racing" in a triathlon in Sun River
And then there is this "little" ride I committed to 😯 So I do realize there are people that do the entire triathlon by themselves and that is very, very impressive! I will be on a team for my first ever "race" on a bike. So I am "only" riding and when I agreed to the 58 mile ride I was only focused on the distance. Completely missing the fact that elevation, heat and riding alone (well there will be strangers around) will all be huge factors for me. I figure it will take me 4.5 to 5 hours to ride the 58 miles and climb the 2,800 feet. I have put in the miles and I feel at this point I'm as ready as I will ever be.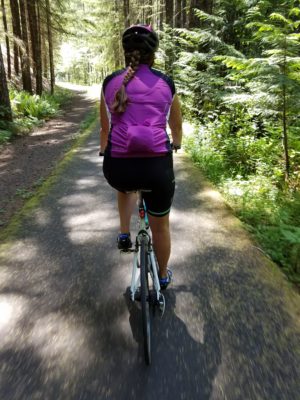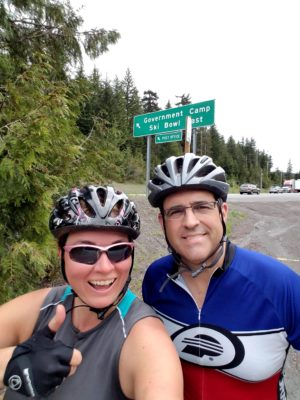 The point is I set 2 goals and now that I'm about to face each of them I'm scared! Isn't that ironic? Fear of not having the opportunity is overshadowed by fear of achieving the goal! What is that? Can anyone relate to how I'm feeling? I guess what is behind the fear is that other ugly "F" word – FAILURE. What if you go for a goal and don't achieve it? 🙁 Thankfully I have and awesome cheering squad and I appreciate you all so much!
Here goes nothing…
S